Still working to recover. Please don't edit quite yet.
Alex Comfort
From Anarchopedia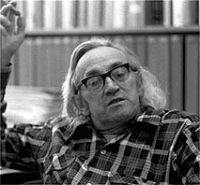 Alex Comfort
(1920-2000), engelsk biolog, sexualforsker - og alderdomsforsker ved University College London . Som aktiv samfundsdebattør var han mest kendt som ivrig krigsmodstander og forkæmper for sexuel frigørelse. Det sidste har ført til bogen Sex in Society. Som forfatter har han udgivet romaner, digte, skuespil, protestsange, essays og videnskabelig og samfundskritisk litteratur.
Hans vigtigste bidrag til anarkistisk teori finder vi i Authority and Delinquency in the Modern State: Magthaverne påfører samfundet langt større skader end almindelige forbrydere gør, og i denne bog tager Comfort problemet politisk magt op fra en kriminologisk og socialpsykologisk synsvinkel.